Building & Living PR in Germany
Paroc, Trex, Martin Reichardt Architekten, Heroal, Warema, Fingerhaus etc.
The Building & Living segment offers a whole new range of PR approaches allowing to support and boost sales. Good brand positioning in targeted media, whether in end-consumer-oriented or in specialized press, is therefore crucial.
Industrie-Contact has provided –and continues to provide– its services to many customers in the Building & Living segment. Examples of successful press work can be found with world-leading brands Trex and Paroc.
Paroc for Paulaner Brauerei
Paroc is an Finland-based international stone wool insulation producer with an office in Hamburg. For the construction of the Munich-Langwied Paulaner brewery, Paroc was given the mission to insulate all buildings with non flammable sandwich panels. A modern insulated facade with mirror effects was also installed in 3 buldings: the fermenting and storage cellar, the malt silo and the brewery.
Industrie-Contact's job was to create a microsite on the Paulaner project and campaign on the Paroc website. Publishing customer news, shooting a video documenting the construction progress and writing a background article were also part of our work on this project.
On top of that, we helped the Paroc website earn better ranking in the German-speaking area with Search Engine Marketing (SEO + SEA).
World market leader Trex in advance on the German market
Our customer Trex comes from Virginia, USA. Trex is the world's greatest manufaturer of WPC (wood-plastic composite) terrace and veranda decking, railings, luminaires, mouldings, support systems and furniture. Our work chiefly consisted in classic PR for WPC-terrace decking. This included writing and publishing articles in end-consumer and specialized press. Our range of tasks also included live communication at events such as BAU, the leading trade fair for architecture, materials and systems, and the GaLaBau, another international trade show in the field.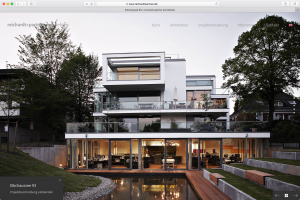 For the architects at Martin Reichardt, we implemented the new website using the latest findings in design and SEO. Our work for this customer also included press work in specialized media.
Once more, we provided Heroal, Warema and FingerHaus our services in press work, collaborating for instance with German TV show Ratgeber Bauen & Wohnen – an example of the ideal target media for the topic.
Market access for international customers
Our clients appreciate our expertise and our honest advice. We know our way around the media landscape and are therefore able to provide a good understanding of it. International customers such as Trex and Paroc, who are not so familiar with the German media, particularly appreciate our know-how.
Public Relations and Building & Living work great together. Meeting customers' expectations, taking multilevel measures and price structuring is made possible at the best cost-effectiveness ratio.
References in Building & Living