Reviews & Endorsements from Clients and Partners
Satisfied, prestigious clients and partners are the best proof of our professional and high quality work.
"Industrie-Contact made things really easy before, during and after the Qatar Business and Investment Forum in Berlin (Sept.5, 2018). We infinitely would like to work with you and the team again in any future encounter."

"Working with IC on mutual, international clients is always a pleasure. They are creative, know their markets well and are top-notch in servicing their clients."

"Industrie-Contact has delivered for us with a creative, proactive and thorough approach to our many, diverse initiatives. Indeed, IC has turned up the volume on the Fitness Party!"

"We maintain a close partnership with Industrie-Contact because they are capable of realizing the perfect trade show communication for our stand design customers. A must have in today's marketing mix."

"Since 2016 Industrie-Contact has been taking care of our PR work and is achieving publications in trade press and daily media. As a result, in Germany (our HQ is in the Netherlands), we are gaining more and more recognition, which helps us to expand our business."

"Since spring 2014 Industrie-Contact is our PR and SEO agency in Germany. It is a big pleasure to have a very professional partner where cooperation is simple and easy."

Audronė Endriukaitytė

Communications and Marketing Manager Europe and Baltics, UAB Paroc

"When Close Brothers Asset Finance entered the German market we needed a PR partner who understood both the sectors we target and had contacts at the trade media we wanted to target, and we found the right partner in Industrie-Contact."

"We cooperate closely with Industrie-Contact because they can enrich our SEO services optimally with good content."

"Ebury has had great success working with Industrie-Contact (IC) and achieved great results. The team led by Uwe Schmidt are creative, efficient and a pleasure to work with. They are a most reliable extension of our European team and work brilliantly across all assets of communication including traditional PR, events and place-making. We would not hesitate to recommend their services."

"In 2011 we booked IC as our PR agency for Germany. We are very satisfied with the results that they have achieved for us and the thoroughness of their work. They represent Made in Germany in the true sense of the meaning."

Dan Warren

Managing Director, Trex Company, Inc.

"For many years Industrie-Contact has done PR for the Beiersdorf brand Eucerin®. The IC team has excellent contacts with our target media and produces results which we have been very satisfied with."

"Industrie-Contact supports our activities for burned children with professional PR. They do this pro bono. Thank you so much!"
"Since spring 2014 Industrie-Contact is our PR and SEO agency in Germany. It is a big pleasure to have a very professional partner where cooperation is simple and easy."

Audronė Endriukaitytė

Communications and Marketing Manager Europe and Baltics, UAB Paroc

"Working with IC on mutual, international clients is always a pleasure. They are creative, know their markets well and are top-notch in servicing their clients."

"Ebury has had great success working with Industrie-Contact (IC) and achieved great results. The team led by Uwe Schmidt are creative, efficient and a pleasure to work with. They are a most reliable extension of our European team and work brilliantly across all assets of communication including traditional PR, events and place-making. We would not hesitate to recommend their services."

"For many years we have been relying on Industrie-Contact's PR services. The agency works very thoroughly, provides good counseling and delivers on-going media success stories."

"We maintain a close partnership with Industrie-Contact because they are capable of realizing the perfect trade show communication for our stand design customers. A must have in today's marketing mix."

"For many years Industrie-Contact has done PR for the Beiersdorf brand Eucerin®. The IC team has excellent contacts with our target media and produces results which we have been very satisfied with."

"The agency Industrie-Contact has been done PR for Kollmorgen Europe in Western Europe for many years and has achieved excellent results. The communication towards the media at trade shows included the invitation of editors, writing and providing of press kits, briefings with journalists at the booth, documentation of results and contacts in the aftermath of the show."

"We cooperate closely with Industrie-Contact because they can enrich our SEO services optimally with good content."

"We started working with Industrie-Contact two years ago and we are really satisfied with the results of our collaboration: they invested time and attention to really understand our niche B2B business and we really appreciate the responsiveness, personalized service and commitment to helping Datamars Textile ID gain brand awareness to our target markets. IC understood our multifaceted target audience and tailored the PR to appeal directly to them, doing exactly what we needed them to: considering a very niche business such ours (the RFID for industrial laundries) they secured excellent press coverage on many application fields magazines (hospitality & healthcare management ones), demonstrating strong skills and networking. The work they have done for us has exceeded our expectations."

"Since 2016 Industrie-Contact has been taking care of our PR work and is achieving publications in trade press and daily media. As a result, in Germany (our HQ is in the Netherlands), we are gaining more and more recognition, which helps us to expand our business."

"Industrie-Contact is our reliable, results-driven partner in Germany. Having worked with them several times over the past decade, we know we can count on them for creative and strategic communications counsel that helps our clients achieve business success. We endorse them heartily."

"For many years Industrie-Contact is our PR agency partner in Germany for Finnish clients. They stand for very professional media work and help our clients realizing successful tailor-made communications concepts."

Päivi Holmqvist

Director PR Services, Zeeland Oyj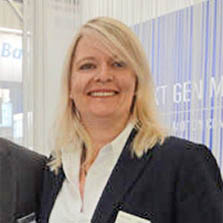 Marketing Coordinator, Kollmorgen Europe GmbH
"The agency Industry-Contact AG has been done PR for Kollmorgen Europe in Western Europe for many years and has achieved excellent results. The communication towards the media at trade shows included the invitation of editors, writing and providing of press kits, briefings with journalists at the booth, documentation of…
查看资料